Note : Images and Videos are only for illustration purposes. Please refer to technical specs for exact model and details.
ABSOLUTE PRECISION
ROG Strix SCAR Edition is built exclusively for the sharpest shooters in the meanest gunfights — optimised to gain a competitive edge in FPS titles such as Counter-Strike, Overwatch® and Team Fortress 2. You'll enjoy the power of the latest Intel Core i7 processors, NVIDIA GeForce GTX 10-Series graphics and Windows 10 Home. With a desktop-style keyboard layout, N-key rollover and fast-actuating keys, Strix SCAR Edition keeps you centered on the maps — so you'll rank high, and kill with absolute precision!
THE ALL-NEW ROG STRIX ONLY FOR TOP SHOOTERS
Your every twitch, target and takedown are deeply infused into Strix SCAR Edition, a war machine meticulously designed to support and enhance your shooting skills for even more kills. Taking both its name and design inspiration from the combat assault rifle packed by special forces and used in warfare, Strix SCAR Edition is crafted in gunmetal gray and finished with the cold, dark feel of bullet-proof Kevlar — an outward projection of your inner calm, focus and precision. Bulk would compromise your enviable agility and performance, so all this lethal firepower is packed into compact body that's as thin as 2.3cm and as light as 2.5kg!

COMBAT-PROVEN COMPUTING POWER
Upgrade your arsenal with the latest 7th Generation Intel Core i7 processor and NVIDIA GeForce GTX 10-Series graphics — combat-ready computing power to rule the game. Cutting-edge storage, such as a 256GB SSD and a 1TB Seagate FireCuda SSHD, plus 16GB of high-performance DDR4 2400MHz memory guarantee superior performance.
SHARPER FOCUS. ACCURATE SHOTS.
The difference between defeat and victory is measured in fractions of a second. Strix SCAR Edition upgrades your vision, with an IPS-level display with a 144Hz refresh rate to deliver smooth, accurate visuals, as well as eliminate lag and motion blur. The 300cd/m² panel ensures 20%-brighter visuals than low-end IPS panels from competitors. Strix SCAR Edition can also be specified with a 120Hz display with 5ms response time. Give your aim an upgrade, and sharpen your sights for the crucial moment of the shot!
SEAMLESS GAMEPLAY
NVIDIA G-SYNC technology synchronises the display's refresh rate with the GPU's frame rate to make gameplay silky smooth. G-SYNC minimises perceived stuttering, reduces input lag, and eliminates visual tearing all without affecting system performance. You get the smoothest and fastest experience even in the fiercest gunfights.
ACTION-PACKED VIRTUAL REALITY
NVIDIA GeForce GTX 1060 and 1070 Series VR-ready graphics put you in the midst of the action. Shooting games are hugely popular in the VR world so level up your marksmanship in a smooth, low-latency, and stutter-free setting.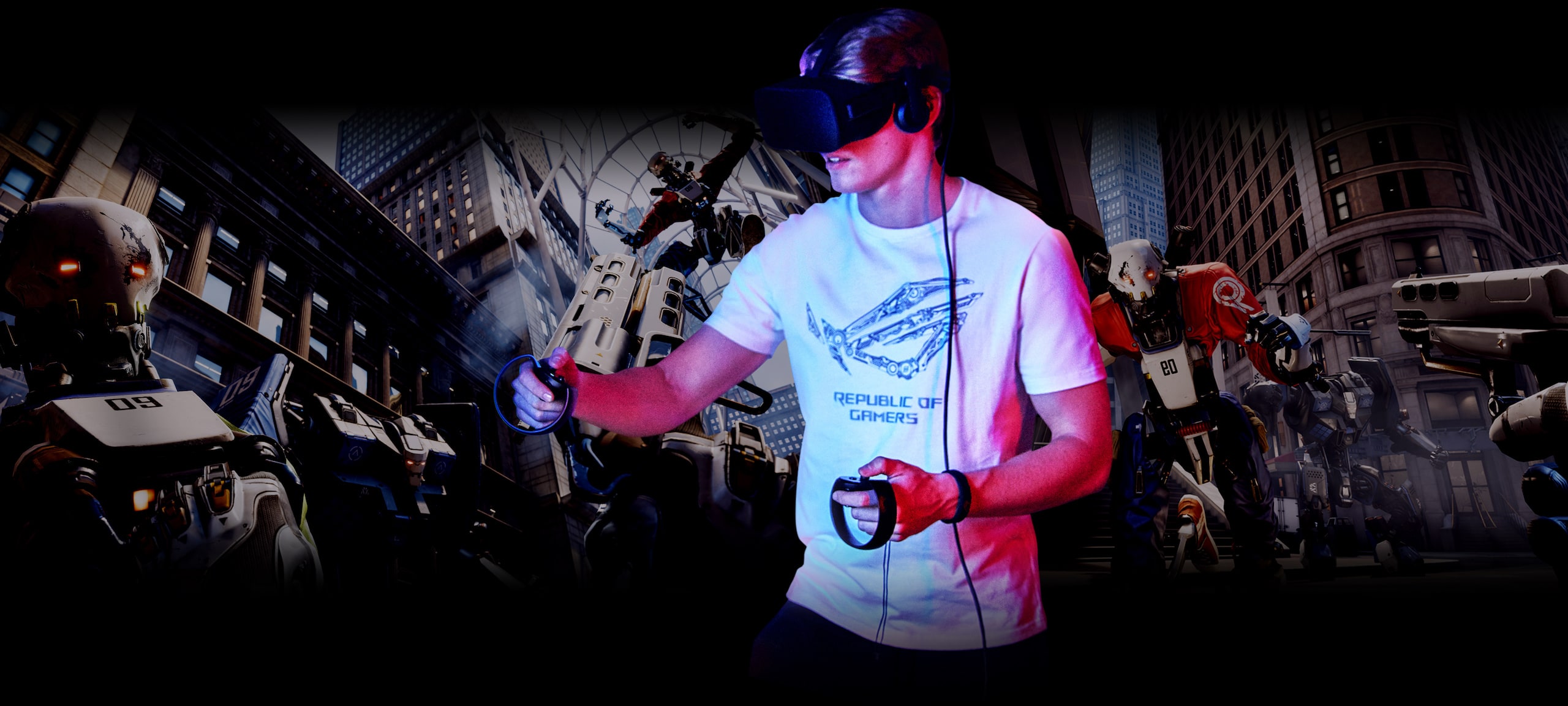 SIDE-FIRING SPEAKERS FOR UPGRADED AUDIO SENSING
Strix SCAR Edition delivers clearer, louder, and more accurate audio so every action sounds real, all powerfully delivered through two expansive side-firing speakers. With this immersive stereo audio, even the quietest sounds can be heard, so you'll pick up on every hidden movement. Smart-amplifier technology monitors the audio output and makes real-time adjustments, so you can pump up the volume without worrying about damaging the cones — and that makes output up to 200% louder than before, with increased dynamic range and bass. ROG's Sonic Studio even offers in-game noise cancellation and voice-volume stabilisation, boosting everything you can hear to enhance your performance. Every little advantage aids your march to victory — and Strix SCAR Edition ensures you hear every precise audio cue!
STAY COOL UNDER FIRE
Strix SCAR Edition has an intelligent thermal design that employs heat pipes and dual fans to automatically adjust cooling system for optimised CPU and GPU performance. The specially-crafted venting holes above the keyboard and in the bottom of the laptop allow more intake of cool air. The upgraded 12V fans, which spin at higher speeds compared to traditional 5V blades, drive strong airflow to boost cooling efficiency, so you're free to run the CPU and GPU at full speed without thermal throttling. An additional fan-boost function further increases cooling performance and guarantees total stability during even the most intense battles — so you'll keep a cool head even under fire!
QUICK-ACCESS GAMING CONNECTIONS WITH THUNDERBOLT 3
Strix SCAR Edition comes with Intel Thunderbolt 3, up to four USB 3.1 Gen 1 Type-A, HDMI 2.0 and Mini DisplayPort 1.2 ports, so connecting the latest, greatest gaming peripherals is a cinch. Onboard Intel Thunderbolt 3 technology enables a total of up to 40Gbps bandwidth for data and display-signal streams, combined; while the USB Type-C (USB-C) connector makes it the most advanced and versatile port available — providing single-cable docking and connections to displays. With Thunderbolt 3, Strix SCAR Edition opens up a world of possibilities, all via a single port.