ASUS H1 LED Projector- Full HD (1920 x 1080), 3000 Lumens, 120 Hz, 125% Rec. 709, 125% sRGB, Crestron Connected Certified, 10W Built-in Speaker, HDMI, RS-232, RJ45, Full HD@120Hz output on PS5 & Xbox Series X/S
Bright, Full HD visuals - Powered by a 3000 lumen LED light source
Ready for next-gen consoles - 120 Hz refresh rate for super smooth gaming
Luxurious cinematic experiences - Project from 40" to 200, with 125% Rec. 709 and sRGB color gamuts
Easy projector management - Integrated LAN port with Crestron RoomView® Express
High-quality speaker - Integrated 10-watt output delivers loud and clear sound for enhanced viewing experiences
ASUS H1 LED Projector- Full HD (1920 x 1080), 3000 Lumens, 120 Hz, 125% Rec. 709, 125% sRGB, Crestron Connected Certified, 10W Built-in Speaker, HDMI, RS-232, RJ45, Full HD@120Hz output on PS5 & Xbox Series X/S
Bright, Full HD visuals - Powered by a 3000 lumen LED light source
Ready for next-gen consoles - 120 Hz refresh rate for super smooth gaming
Luxurious cinematic experiences - Project from 40" to 200ʺ, with 125% Rec. 709 and sRGB color gamuts
Easy projector management - Integrated LAN port with Crestron RoomView® Express
High-quality speaker - Integrated 10-watt output delivers loud and clear sound for enhanced viewing experiences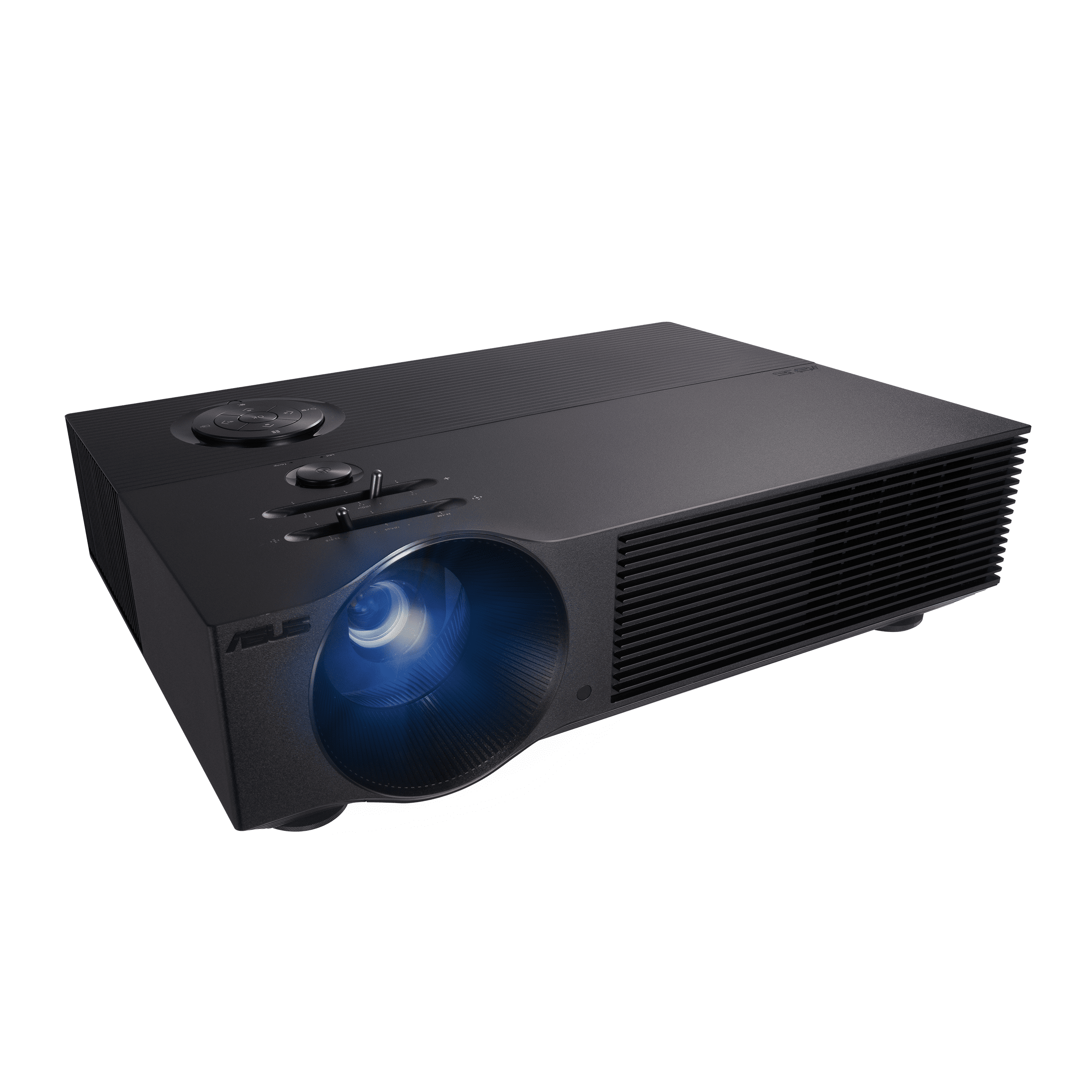 Experience Bright and Immersive Visuals
H1 LED PROJECTOR
With 3000-lumen light output and 125% Rec. 709 and sRGB wide color gamut, ASUS H1 projects bright and crisp imagery at Full HD (1920 x 1080) resolution. A mercury-free RGB LED light source ensures gorgeous, fade-free projections for up to 30,000 hours – which amounts to around 20 years of real-world use, at an average of 4 hours per day. Just fire up H1 to be drawn into immersive adventures from the comfort of your home.
Bright and Crisp Projection for Immersive Visuals
With its 120 Hz refresh rate, ASUS H1 is locked and loaded for next-gen console gaming – ready to serve up ultrasmooth experiences.
Superfast Refresh Rate for Smooth Gaming
ASUS H1 turns any room into a home theater, with a wide projection range that spans from 40 to 200 inches – allowing you to enjoy big-screen immersion with ease. H1 also has a 1.2X zoom function for zooming in and out of projections.
Big Screen Enjoyment At Home
The elegant H1 projector offers a premium feel and a style that blends well with any home or office decor, whether mounted on the ceiling or placed on a desk. H1 also includes a sleek, compact remote control for added convenience.
Sleek and Exquisite Design
H1 has an RJ45 Ethernet port that's compatible with Crestron RoomView Express, enabling remote management of up to 250 projectors on the same network. You can view lamp life, send notifications or set an operational schedule ― all on your PC.
Easy Projector Management
H1 features a variety of user-friendly connectivity options, including two HDMI2.0 ports for 4K input, VGA, audio input and output, RS232, and one USB Type-A ― so it's a cinch to connect up to multimedia sources.
Comprehensive Connectivity
The built-in 10-watt speaker delivers a wide frequency range for clear and rich vocals.
10-Watt Speaker for Superior Sound Quality
More Information

| | |
| --- | --- |
| SKU | 90LJ00F0-B00270 |
| Model Key | 15470 |
| Colour | Black |
| Storage | 1 TB + 1 TB SSD |
| Model | H1 LED |
| Maximum Resolution | 1920 x 1080 |
| Manufacturer's Warranty | 1 year |
| Connectivity | Wired |
| Condition | Brand New |
ORDER RELATED QUESTIONS
1 | How can I track my order?
All orders are dispatched with the use of a courier service, which allows you to track your parcel directly from the courier website. You can use your tracking number which is provided via email and enter this on the "Tracking" or "Track your item" option on the courier's website. If you have not received your tracking number, please call us on 0208 551 6505 (Mon to Fri 9:00am - 5:30pm, excluding bank holidays).
2 | When can I expect the delivery?
All orders should be delivered in the expected delivery window as specified on the delivery option, when selecting during the checkout process. If you have not received the goods in the specified delivery window, please call us on 0208 551 6505 (Mon to Fri 9:00am - 5:30pm, excluding bank holidays).
3 | I've changed my mind and want to cancel my order. What should I do?
Please contact Customer Services on 0208 551 6505 immediately should you wish to cancel an order.
4 | What is the response time for enquiries?
We aim to respond to all emails / enquiries within 1-2 business days. During busy periods, we may experience a backlog of enquiries, but nonetheless will aim to respond as soon as possible.
5 | Questions about order status?
Processing - The order has been sent to our warehouse for fulfilment. Your order will dispatch within 1 - 2 working days.
Shipped - The order has been fully dispatched. The dispatch tracking number is provided in the Order Tracking email where you can obtain up to date dispatch information.
6 | How do I return my product?
Returns are permitted for refund or exchange and must be initiated by contacting our returns department via email at cs@asusstore.co.uk.
7 | I need help with ordering. What should I do?
Should you need help choosing your ideal device or need help placing an order, you are welcome to contact our friendly and experienced sales team on 0208 551 6505.
8 | Does ASUS offer free shipping?
Yes, we offer free shipping on orders above £150.