Note : Images and Videos are only for illustration purposes. Please refer to technical specs for exact model and details.
Performance is everything
ASUS VivoBook Pro 17 is a slim and lightweight high-performance laptop that's powered by a 7th Generation Intel Core processor. It features a Full HD display with 100% sRGB color gamut, high-quality NVIDIA GeForce GTX 1050 gaming-grade graphics, audio co-developed by Harman Kardon, and the latest cooling and fast-charge technologies.
Aluminum design
Each VivoBook Pro 17 is milled from high-strength aluminum that undergoes a series of intricate manufacturing processes to achieve its sleek and elegant final form. This elegant laptop boasts a 20.9mm profile and an overall weight of 2.1kg.
Unprecedented performance
At the heart of the VivoBook Pro 17 is the incredibly powerful 7th Generation Intel Core i5 processor for superior performance. With 8GB DDR4 RAM 33% faster than DDR3 the VivoBook Pro 15 delivers processing power for effortless multitasking. When equipped with an optional high-performance SSD, it offers class-leading data access speeds. There's ultra-fast connectivity, too with dual-band 802.11ac Wi-Fi for speeds that are 6x faster than 802.11n!
Amazing gaming-grade NVIDIA® graphics
With up to NVIDIA® GeForce® GTX 1050 gaming-grade graphics, the VivoBook Pro 17 delivers flawless visuals perfect for gaming, watching movies, or editing videos. It has the power to tackle even the most graphics-intensive tasks with ease.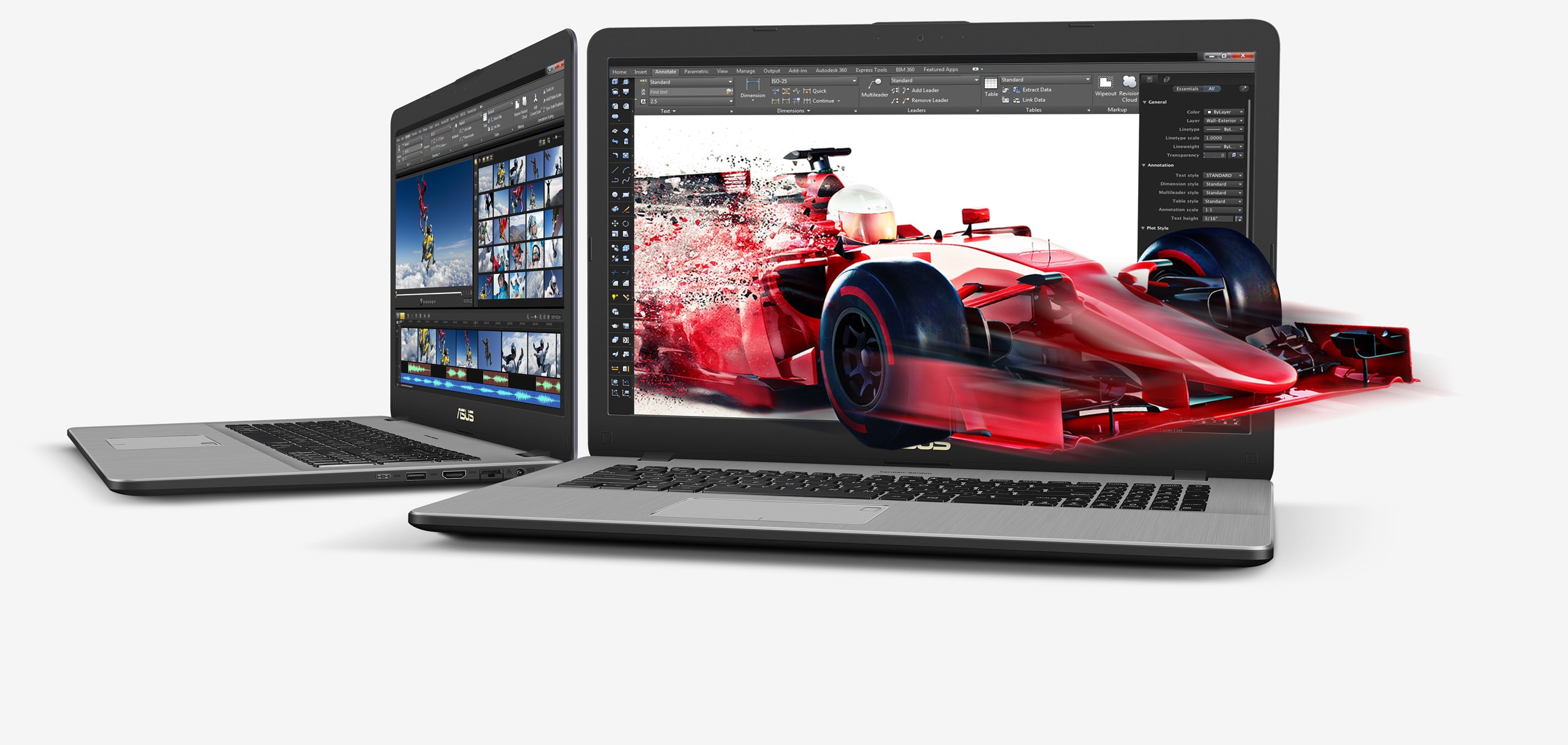 Full HD display for vivid visuals
The VivoBook Pro 17 combines optimized hardware and software to provide best-in-class visuals. A Full HD panel with 178° wide-view technology, 72% NTSC and 100% sRGB color gamut, and ASUS Splendid display technology provide richer, deeper and more accurate colors for any type of content.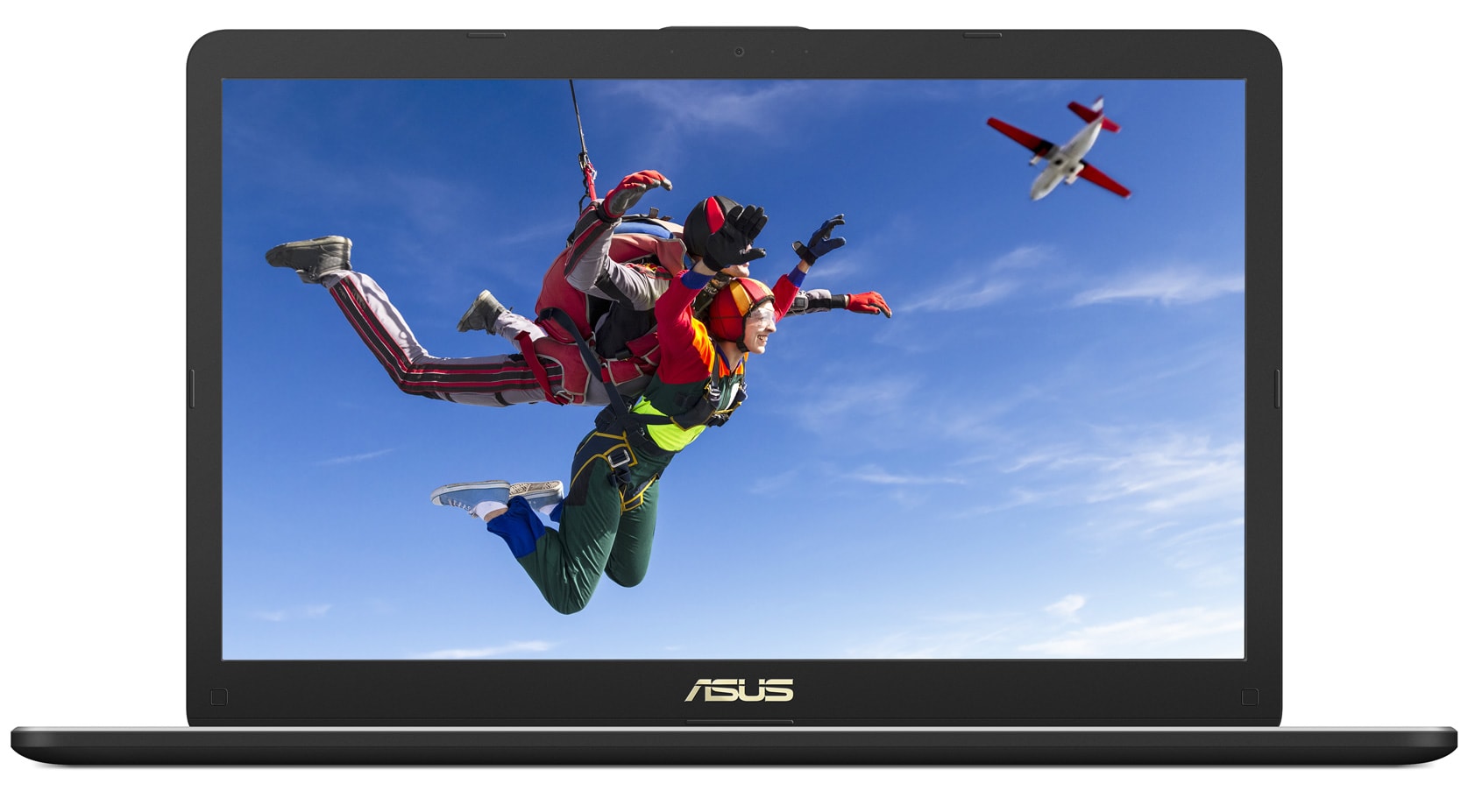 Immerse yourself in premium sound
The VivoBook Pro 17 delivers amazing audio co-developed by Harman Kardon. Powerful speakers with 10.5cc chambers help maximize volume while maintaining crystal-clear sound. Dual-coil stereo speakers deliver the loudest, clearest audio possible from a thin and lightweight device.
Fast-charge technology
The VivoBook Pro 17 is designed for interruption-free productivity and entertainment. Its high-capacity battery can be fast-charged to 60 percent in just 49 minutes.
All the connections, none of the hassle
The VivoBook Pro 17 includes a USB 3.1 Gen 1 port with a USB Type-C connector that supports data transfer speeds of up to 5Gbps. The reversible USB Type-C connector design makes connecting any device effortless and quick. Along with the USB 3.1 Gen 1 port, the VivoBook Pro 17 offers USB 3.0 and HDMI ports, and a card reader for hassle-free compatibility with a wide range of peripherals, displays and projectors.