ASUS Official Certified Refurbished. They are professionally tested and restored to Factory default state. May have light cosmetic blemishes in some cases. (Buyer pays Return postage). 1 Year Laptop Outlet Warranty (Return to Base).
The Unbeatable Gaming Laptop with TurboMaster Overclocking       
G751 is an unbeatable gaming laptop thanks to its 4th-gen Intel Core i7 processor and NVIDIA GeForceGTX graphics, with TurboMaster technology for stable GPU overclocking and ROG AudioWizard-enhanced audio for immersive gaming. Its intelligent dual-fan cooling system keeps everything cool even in the heat of battle, and special keys let you access Steam or share memorable gaming moments with the world!
Designed to Get You in the Game
With its aluminum finish and illuminated ROG logo, there's no doubting the ROG G751's gaming DNA. You'll be immersed in a Full HD gaming world through a 178-degree wide-view angle display with an anti-glare coat; while an ergonomically-angled keyboard ensures no fatigue during marathon gaming sessions. There's even special Game Keys for Steam, gameplay recording, and macros.
Awesome Gaming Performance
The quad-core Intel i7 processor gives you the gaming performance you need without sacrificing efficiency, while gaming-grade NVIDIA GeForce GTX graphics satisfies the most hardcore gamer's need for supreme visuals. ASUS TurboMaster Technology provides simple and stable real-time GPU overclocking; while an intelligent dual-fan cooling system ensures ROG G751 withstands the demands of high performance gaming.
Geared for Incredible Gaming Experiences
Intel Thunderbolt technology provides ultra-fast graphics and data transmission via a single connection; while GameFirst III optimizes networks to give you smooth, lag-free online gameplay. ROG G751 has a Full HD IPS display that gives you incredible levels of detail. It also has ASUS Trinity Display technology so you can hook the ROG G751 to up to three displays for multi-display gaming set-ups.
Stealth Fighter-Inspired Aluminum Chassis
ROG G751 retains the classic stealthy F-22 Raptor-inspired lines found on previous G Series iterations; only this time it sports an aluminium finish with an illuminated ROG logo. Dual rear vents add to the visual drama, and play a part in its highly efficient and effective thermal design.
Ergonomically-Angled Keyboard
ROG G751 has an ergonomically-angled keyboard and a durable, soft touch, anti-slip palm rest to ensure your hands and wrists stay comfortable even during marathon gaming sessions.
Programmable Game Keys and Marked WASD Keys
ROG G751 has dedicated keys for instant Steam access and one-click gameplay recording. The ASUS ROG Macro Key can be programmed with up to three commands, so you can make complex in-game multi-key actions, launch applications, or load up a specific website with one keystroke. It also features specially-marked WASD keys.
Responsive Backlit Keyboard
The seamless one-piece keyboard has 2.5mm of key travel to give you responsive keystrokes and no key float for a solid typing feel. Isolated arrow keys provide a true gaming feel, while the large multi-touch touchpad with scissor feet buttons enable easy navigation. Keyboard backlight levels are adjustable for low-light environments.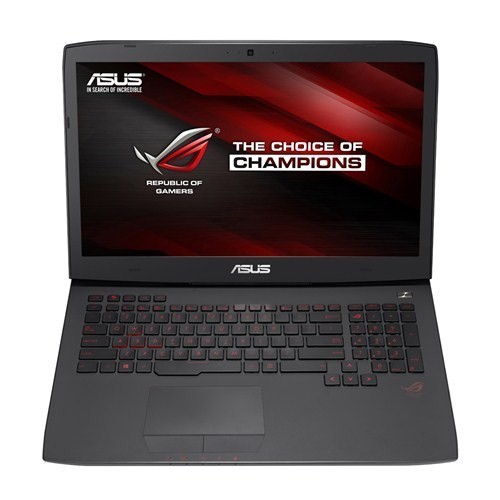 Spectacular Full HD IPS Display
The Full HD IPS display gives you 178-degree wide viewing angles for minimal colour shift even when you view it from extreme angles. You get to enjoy spectacular visuals and colour accuracy, and even share your favorite gaming moments with family and friends by your side. A matte anti-glare coat gets rid of annoying reflections so you can focus on what's onscreen without straining your eyes.

Realistic, Immersive In-Game Audio
Sonic Master completely immerses you in high quality in-game audio, with MaxxAudio, a professional-grade processing tool, and ROG Audio Wizard giving you several preset audio modes suited for different gaming genres for total mastery over in-game sounds.
ROG G751 also includes Bass Eye – an internal subwoofer that's perfectly balanced with the rest of the notebook for added low-frequency impact.
ASUS Web Storage
With ASUS Web Storage, your personal stuff is always with you on any internet-connected device. Your files are synchronized between all your devices, so you always have instant access to the latest versions. Web Storage offers you easy storage, sharing, and syncing of everything from business presentations to personal photo albums and your favorite music or movie files.