GT-AXE11000 Tri-band WiFi 6E (802.11ax) gaming router, new 6GHz band, 2.5G WAN/LAN port, PS5 compatible, WAN aggregation, VPN Fusion, Triple-level Game Acceleration, free network security and AiMesh support
Next-gen WiFi standard – World's first WiFi 6E tri-band router boosts speeds up to 11000Mbps.
New 6GHz frequency band – Wider channels and higher capacity delivers higher performance, lower latency, and less interference.
2.5G WAN/LAN Port – All network traffic through 2.5G port is given top priority, and 2.5G port unlocks the full potential of WiFi 6.
Performance through engineering – Quad-core CPU, advanced cooling system and optimized antenna design for next-level computational capabilities.
Triple-level game acceleration – Accelerate game traffic every step of the way, from device to game server.
Extendable Router: Extend or upgrade your WiFi. Mix and match any AiMesh router for seamless WiFi everywhere
GT-AXE11000 Tri-band WiFi 6E (802.11ax) gaming router, new 6GHz band, 2.5G WAN/LAN port, PS5 compatible, WAN aggregation, VPN Fusion, Triple-level Game Acceleration, free network security and AiMesh support
Next-gen WiFi standard – World's first WiFi 6E tri-band router boosts speeds up to 11000Mbps.
New 6GHz frequency band – Wider channels and higher capacity delivers higher performance, lower latency, and less interference.
2.5G WAN/LAN Port – All network traffic through 2.5G port is given top priority, and 2.5G port unlocks the full potential of WiFi 6.
Performance through engineering – Quad-core CPU, advanced cooling system and optimized antenna design for next-level computational capabilities.
Triple-level game acceleration – Accelerate game traffic every step of the way, from device to game server.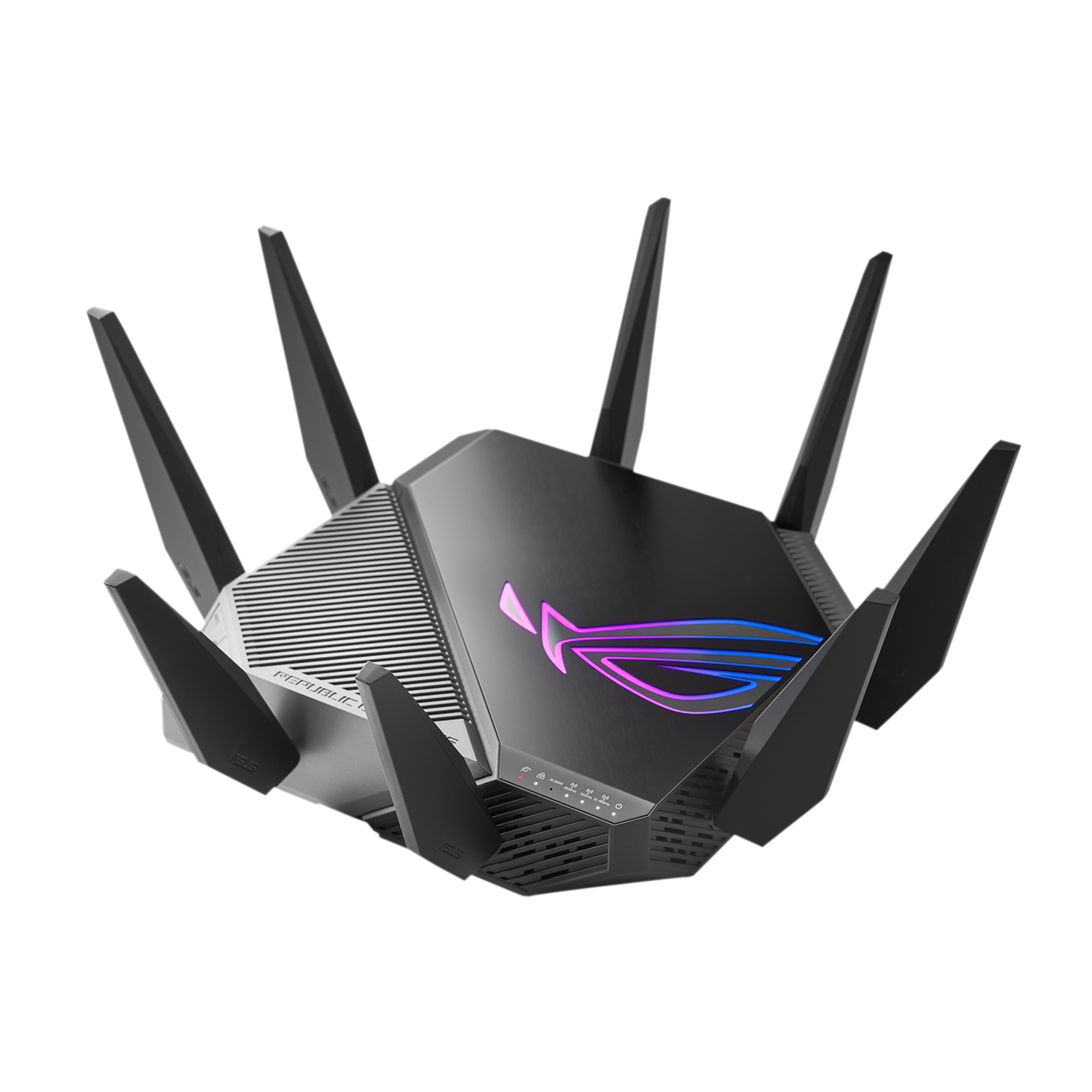 MASSIVELY EXPANDED DEVICE CAPACITY
WiFi 6E gives you up to 7* extra high-speed 160MHz channels, for multi-gigabit speeds with stable and consistent connections. It dramatically increases network capacity while reducing bandwidth congestion, delivering higher performance for every WiFi 6E device.
SPACE-AGE NETWORKING FOR SPACE-AGE DEVICES
To achieve its magic, WiFi 6E takes advantage of the newly-available unlicensed radio spectrum in the 6GHz band, a band that will be dedicated purely to WiFi 6E-capable devices. This means that older devices won't interfere with WiFi 6E performance at all.
CONNECT INSTANTLY
As the new 6GHz band is exclusively reserved for WiFi 6E devices, there's no need for Dynamic Frequency Selection, which prevents interference with things like air traffic control radar. This means that devices can connect quicker without the delays imposed by DFS.
6GHZ POWER AMPLIFIER AND 1.8GHZ QUAD-CORE CPU
GT-AXE11000's new 6GHz power amplifier boosts both signal strength and quality. The 1.8GHz 64-bit Quad-core CPU with 1GB RAM allows parallel processing for increased speed when handling data from multiple devices, so it can easily handle even the busiest WiFi 6E network
1. 6GHz Power Amplifie
2. 1.8GHz Quad-core CPU
OPTIMIZED ANTENNA DESIGN
To reduce power loss and maximize coverage, ROG engineers minimized the distance between the motherboard connectors and the antennas. A new antenna design optimizes the signal strength in every direction, and each of the eight antennas is well isolated from its neighbors, in particular the four 6GHz antennas.
1. Antenna
2. Connector
LOOKS COOL, RUNS COOL
Heat can kill performance, so GT-AXE11000 is designed for efficient heat dissipation, with specially designed case vents on the top, bottom and sides. The top and side vents align perfectly with the internal heatsink, and these work with the large vent at the bottom to create efficient vertical convection for significantly increased cooling airflow.
1.Heatsink
2.Aluminum Heatsink
3.Thermal Padding
4.Thermal Solder Points
MULTI-GIGABIT NETWORKING
ROG Rapture GT-AXE11000 provides you more option in connecting to your network. Depending on the ISP or different type of modem you're using, you can choose between 2.5G WAN/LAN port or two 1Gbps to achieve the fastest WiFi experience possible.
TRIPLE-LEVEL GAME ACCELERATION
Game Device Prioritization
The dedicated Gaming Port prioritizes any wired device connected to it, ensuring its data is always at the head of the queue.
Game Packet Prioritization
Game Boost is an adaptive QoS feature tuned for gaming that prioritizes all gaming traffic passing through GT-AXE11000.
Gaming Network
We partnered with Outfox™, an optimized gaming network that provides a faster, more stable path to your game's server. As a GT-AXE11000 user, you can enjoy a free 90-day trial by simply registering for Outfox™ and downloading the application to your PC
VPN FUSION
VPN Fusion lets you run both a VPN and an ordinary internet connection — simultaneously! So even if other network users need to use a VPN, you can still enjoy maximum gaming speeds.
ADVANCED DEVICE SECURITY
GT-AXE11000 features AiProtection Pro powered by Trend Micro™, with automatic, regularly updated security signatures to protect your devices and personal data from internet threats. This powerful security solution includes advanced parental controls, including the ability to block specific websites and mobile app types.
More Information

| | |
| --- | --- |
| SKU | 90IG06E0-MO1R00 |
| Model Key | 15367 |
| Colour | ASUS GX601 Midi Tower Black |
ORDER RELATED QUESTIONS
1 | How can I track my order?
All orders are dispatched with the use of a courier service, which allows you to track your parcel directly from the courier website. You can use your tracking number which is provided via email and enter this on the "Tracking" or "Track your item" option on the courier's website. If you have not received your tracking number, please call us on 0208 551 6505 (Mon to Fri 9:00am - 5:30pm, excluding bank holidays).
2 | When can I expect the delivery?
All orders should be delivered in the expected delivery window as specified on the delivery option, when selecting during the checkout process. If you have not received the goods in the specified delivery window, please call us on 0208 551 6505 (Mon to Fri 9:00am - 5:30pm, excluding bank holidays).
3 | I've changed my mind and want to cancel my order. What should I do?
Please contact Customer Services on 0208 551 6505 immediately should you wish to cancel an order.
4 | What is the response time for enquiries?
We aim to respond to all emails / enquiries within 1-2 business days. During busy periods, we may experience a backlog of enquiries, but nonetheless will aim to respond as soon as possible.
5 | Questions about order status?
Processing - The order has been sent to our warehouse for fulfilment. Your order will dispatch within 1 - 2 working days.
Shipped - The order has been fully dispatched. The dispatch tracking number is provided in the Order Tracking email where you can obtain up to date dispatch information.
6 | How do I return my product?
Returns are permitted for refund or exchange and must be initiated by contacting our returns department via email at cs@asusstore.co.uk.
7 | I need help with ordering. What should I do?
Should you need help choosing your ideal device or need help placing an order, you are welcome to contact our friendly and experienced sales team on 0208 551 6505.
8 | Does ASUS offer free shipping?
Yes, we offer free shipping on orders above £150.