2.4 GHz wireless connection via a USB-C dongle with a range of up to 25 m
Up to 15 hours of battery life
50 mm ASUS Essence drivers
Virtual 7.1 surround sound
Instant controls and status indicator on ear cup
Lightweight design and fast-cooling ear cushions for comfort while gaming
Cross-platform support for PCs - PlayStation 5 - Nintendo Switch and mobile
TUF Gaming H3 Wireless gaming headset features 2.4 GHz connection via a USB-C dongle, 7.1 surround sound, deep bass and a lightweight design. Compatible with PCs, PlayStation® 5, Nintendo Switch™
2.4 GHz wireless connection via a USB-C dongle with a range of up to 25 m
Up to 15 hours of battery life
50 mm ASUS Essence drivers and exclusive airtight chamber technology for immersive audio
Virtual 7.1 surround sound
Instant controls and status indicator on ear cup
Lightweight design and fast-cooling ear cushions for comfort while gaming
Tough stainless-steel headband and yoke for enhanced stability and durability
Analog microphone for clear in-game communication
Cross-platform support for PCs, PlayStation® 5, Nintendo Switch™ and mobile phones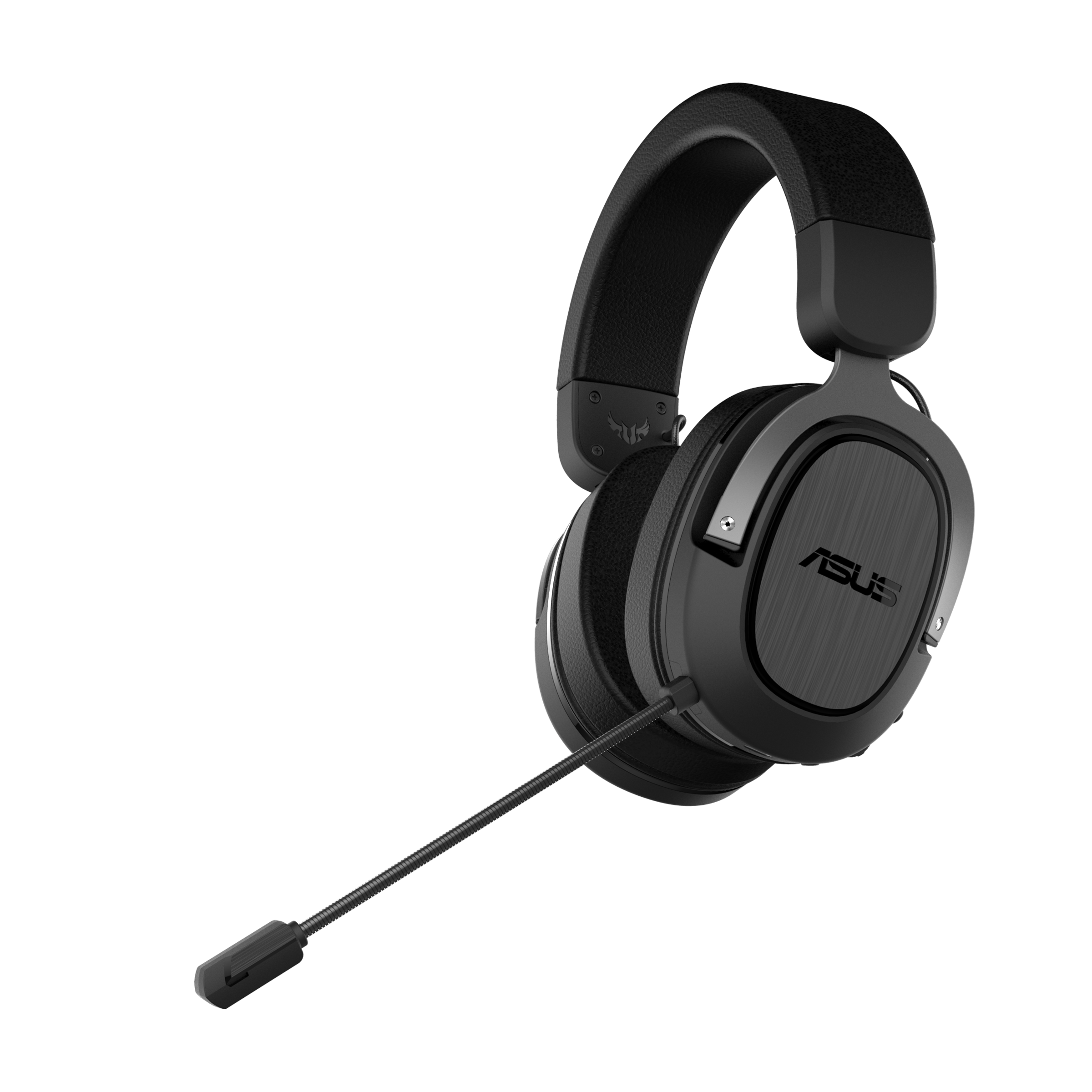 An ultrafast connection that can't be beat
The TUF Gaming H3 Wireless headset is designed to provide incredible freedom with a 2.4 GHz wireless connection. With 50 mm ASUS Essence drivers, an airtight chamber design and virtual 7.1 surround sound, TUF Gaming H3 Wireless upgrades your in-game audio experiences by delivering wonderfully rich, immersive sound. The headset also features a lightweight design, ASUS fast-cooling ear cushions and a stainless-steel headband, which provide comfort and durability for gamers who play or stream for extended periods of time.
Ultralow-Latency Wireless Performance
Traditional wireless headsets may have latency or unstable connections, but TUF Gaming H3 Wireless rises above the rest with 2.4 GHz wireless technology. This enables connections with lower latency than Bluetooth headsets, resulting in near-real-time audio transmission.
Listen Longer and Roam Farther
The extended battery life on TUF Gaming H3 Wireless enables casual gamers to enjoy at least 8 days1 of gameplay or music on a single charge, and hardcore gamers can enjoy over 15 hours2 of nonstop action. Plus, improved coverage of up to 25 meters lets you walk freely or leave your seat during halftime without losing your audio signal.


1 Based on an average play time of two hours per day.

2 Actual battery life varies with use, settings and environmental conditions.
Incredibly Deep Bass & Crystal-Clear Detail
Exclusive airtight chambers and ASUS Essence drivers


TUF Gaming H3 Wireless headset has inherited the most iconic features of ASUS gaming headsets, including exclusive airtight chambers and 50 mm ASUS Essence drivers for clearer audio with strong bass to immerse you in natural-sounding gaming experiences.
7.1 Virtual Surround Sound
Virtual 7.1 surround sound technology* provides an upgraded level of audio precision that will give you a competitive edge during gameplay.


*Supported by Armoury Crate
Instant Control at Your Fingertips
TUF Gaming H3 Wireless comes with handy physical controls on the ear cup, so it's easy to adjust volume, mute or unmute the microphone, or switch the headphones on and off.

1. Microphone on/off
2. Volume control and audio mute
3. Power switch
4. Status indicator for power and charging
5. Power charging port
Lightweight Comfort
Weighing only 307 grams, the lightweight construction of TUF Gaming H3 Wireless headset is designed to keep you comfortable during extended gaming sessions.
ASUS Fast-Cooling Ear Cushions
TUF Gaming H3 Wireless headset utilizes ASUS fast-cooling ear cushions that consist of 100% protein leather and fast-cooling memory foam to deliver ultimate comfort.

1. 100% protein leather
2. Fast-cooling memory foam
Long-Lasting Durability
To withstand the rigors of intense gaming, the headband on TUF Gaming H3 Wireless headset is made of stainless steel. For improved comfort, the headband is designed to provide 20% less clamping force than other headsets.
Stainless-steel headband
Certifiably Clear Communication
TUF Gaming H3 Wireless headset includes a unidirectional boom microphone that's tuned for clear voice communication and certified by TeamSpeak and Discord. Intuitive control buttons on the ear cup let you instantly control volume or mute the microphone.
Full Compatibility with PCs, PlayStation 5, Nintendo Switch and Mobile Phones
With TUF Gaming H3 Wireless, you don't need another headset for console gaming—because it provides truly comprehensive cross-platform support, including for PCs, PlayStation® 5, Nintendo Switch™ and mobile phones.

*ASUS TUF Gaming H3 Wireless is not compatible with Macs.
Armoury Crate
Armoury Crate is a software utility designed to give you centralized control of supported gaming products, making it easy to tune the look and feel of your system. Armoury Crate also allows you to customize user profiles, map keys, record macros and even track hardware stats during gameplay. Additionally, you can use Armoury Crate to manage your product registrations, keep up to date with ASUS news feeds and stay in touch with the ASUS gaming community.
Specifications
Support Platform
PCPlayStation® 4PlayStation® 5Nintendo Switch
Headphones Frequency Response
Microphone Pick-up Pattern
Microphone Frequency Response
AI Noise Cancelling Microphone
Active Noise Cancellation
Accessories
USB Type-C 2.4GHz Wireless USB Dongle Charging cable USB Type-C to USB 2.0 adapter Quick start guide
More Information

| | |
| --- | --- |
| SKU | 90YH02ZG-B3UA00 |
| Model Key | 15243 |
| Colour | Black |
| Storage | 1 TB + 1 TB SSD |
| Model | ASUS TUF Gaming H3 |
| Features | Wireless 2.4 GHz, 7.1 surround sound, USB-C® dongle with USB-A, Black |
| Manufacturer's Warranty | 1 year |
| Connectivity | Wireless |
ORDER RELATED QUESTIONS
1 | How can I track my order?
All orders are dispatched with the use of a courier service, which allows you to track your parcel directly from the courier website. You can use your tracking number which is provided via email and enter this on the "Tracking" or "Track your item" option on the courier's website. If you have not received your tracking number, please call us on 0208 551 6505 (Mon to Fri 9:00am - 5:30pm, excluding bank holidays).
2 | When can I expect the delivery?
All orders should be delivered in the expected delivery window as specified on the delivery option, when selecting during the checkout process. If you have not received the goods in the specified delivery window, please call us on 0208 551 6505 (Mon to Fri 9:00am - 5:30pm, excluding bank holidays).
3 | I've changed my mind and want to cancel my order. What should I do?
Please contact Customer Services on 0208 551 6505 immediately should you wish to cancel an order.
4 | What is the response time for enquiries?
We aim to respond to all emails / enquiries within 1-2 business days. During busy periods, we may experience a backlog of enquiries, but nonetheless will aim to respond as soon as possible.
5 | Questions about order status?
Processing - The order has been sent to our warehouse for fulfilment. Your order will dispatch within 1 - 2 working days.
Shipped - The order has been fully dispatched. The dispatch tracking number is provided in the Order Tracking email where you can obtain up to date dispatch information.
6 | How do I return my product?
Returns are permitted for refund or exchange and must be initiated by contacting our returns department via email at cs@asusstore.co.uk.
7 | I need help with ordering. What should I do?
Should you need help choosing your ideal device or need help placing an order, you are welcome to contact our friendly and experienced sales team on 0208 551 6505.
8 | Does ASUS offer free shipping?
Yes, we offer free shipping on orders above £150.